It was in the summer of 2018 when I went for a small road trip to the Dolomites in northern Italy for the first time. We hadn't planned anything great beforehand and so I started researching on the road. When I came across the pictures of the bright, milky turquoise Sorapis Lake (Lago di Sorapis in Italian), it was immediately clear: I have to go there. Unfortunately, only a few minutes later it was also clear: we won't make it. The hike is too long and we didn't have the time. But of course I couldn't get the spectacular pictures of Lake Sorapis out of my head and anyone who knows me knows: once I've got something in my head, there's no getting around it. And so, almost a year later, I was back in my car on a road trip through the Dolomites and this time the visit to Lake Sorapis should succeed.
Hike to Lake Sorapis
The Lago di Sorapis is located at an altitude of 1923m in the middle of the Dolomites in the province of Belluno in Veneto near Cortina D'Ampezzo (and therefore no longer in South Tyrol, which I wasn't aware of). Nestled between the steep rock faces of the Sorapis Group, the lake shines in an incredible turquoise blue, which I have only experienced in a similarly spectacular way on my hike to Havasu Falls in the southwest of the USA . The milky turquoise color of the Lago di Sorapis arises from the calcareous springs in the lake, making it a rare and really impressive natural gem.
Fortunately, unlike other mountain lakes in the Dolomites, such as Lake Braies, Lake Sorapis can only be reached by hiking. The hiking route is a total of almost 12 km long , i.e. almost 6 km one way. This is absolutely feasible for an average trained person, but too strenuous for younger children, for example, which reduces the crowds in a natural way.
Starting point of the hike: Passo Tre Croci
The starting point of our hike to Lago di Sorapis is the Passo Tre Croci, in German Tre Croci Pass. This is roughly near the municipality of Cortina d'Ampezzo on SR (Strada Regionale) 48. The best thing to do is to simply enter the Tre Croci Pass as the destination in your GPS, then you should find it easily. As far as I know, the pass is the only starting point for the hike, there is no other path.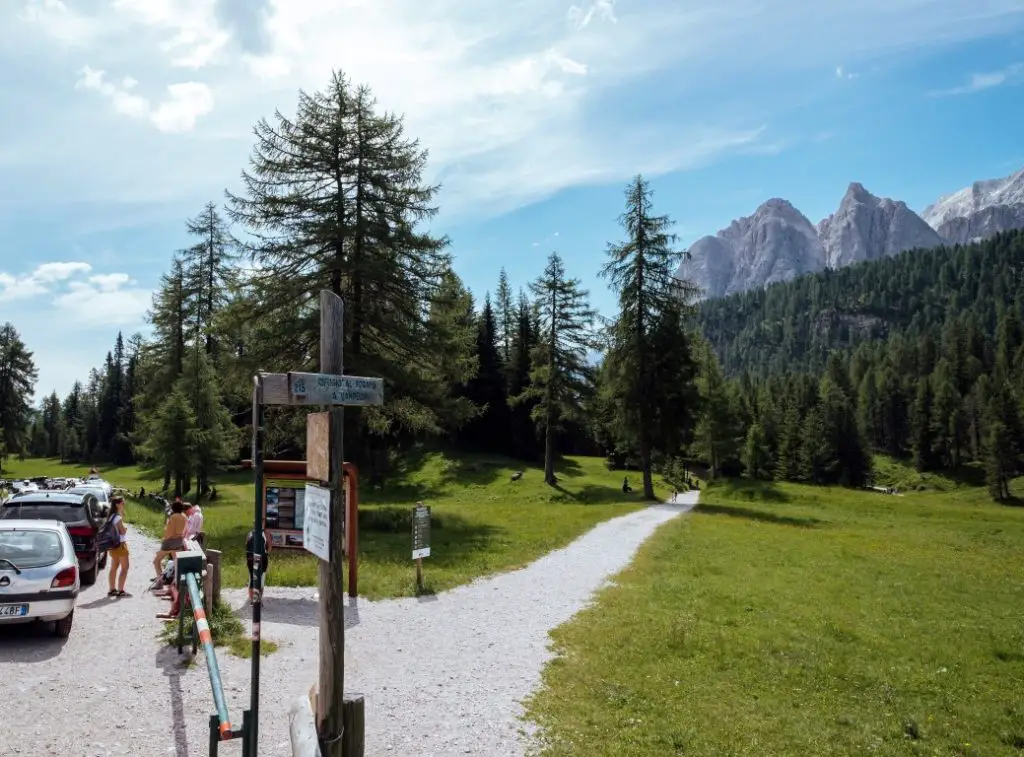 When we arrive at the Tre Croci Pass, it's almost 11 a.m., so we're actually way too late. The search for a parking space is therefore a bit difficult, because you can only park up there on the side of the road. And turn around on a mountain pass …. well. So depending on how early or late it is your turn, it is best to take the first free parking space that you catch. The hike to Sorapis Lake starts right on the roadside and is well signposted.
The hiking trail to Sorapis lake: difficulty and duration
First it goes over a wide path, gently sloping, very pleasantly through forest and meadows. We had read before that the hike to Lago di Sorapis only has to climb 100 to 200 meters in altitude – that sounds chilled and that suits me. My weaker self is cheering! But do not rejoice too early: even if it looks like it at first, the hike is definitely not a walk.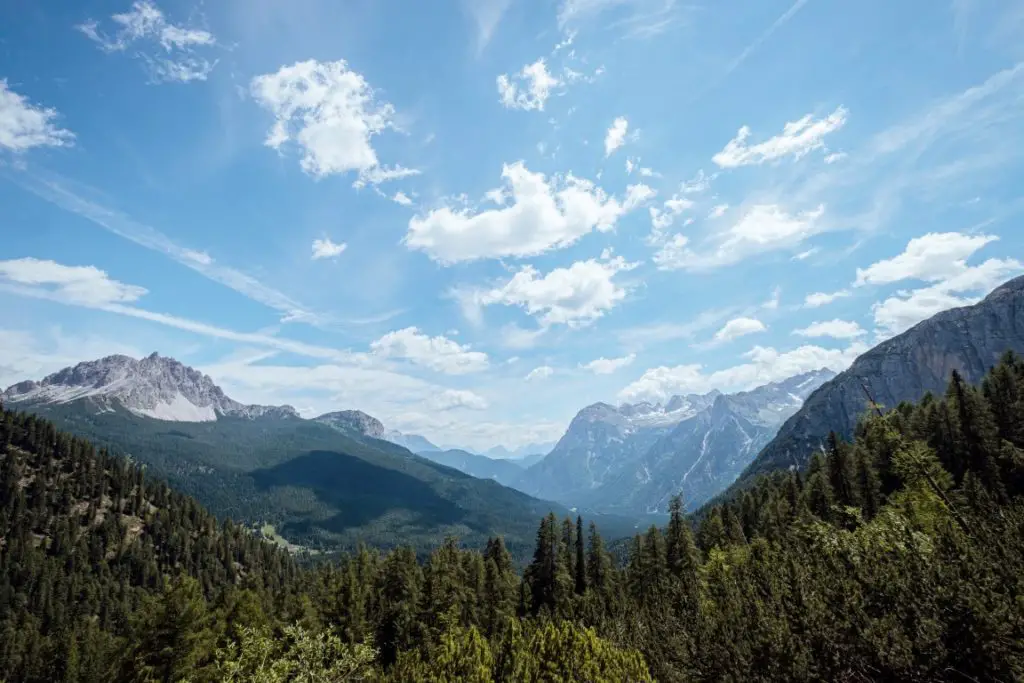 I have to admit at this point that I am not an accomplished hiker. So I'm neither particularly athletic, nor do I have any idea what the usual abbreviations and descriptions of a hiking route mean on the common outdoor websites. As a result, every hike for me is a little adventure into the unknown and I am probably the worst prepared person in the world. So when I describe a hike here and give my opinion on it, then you read it from the point of view of an average fit person who has dared to go on an adventure without highly professional equipment. Ha! And that is exactly what I want. On my hikes for dummies , you will only find routes and destinations that are recommended by DAUs ( D ümmste A.nzunehmende U ser) like me are feasible.
The hike to Lake Sorapis is one such hike. And so that you are not as haphazard as I am, here are the GPS data that we tracked along the way:
Hiked on Friday 5th July 2019

Distance: 5.6 km

Duration: 2 hours, 32 minutes and 2 seconds

Average speed: 2.2 km / h

Minimum altitude: 1742 m

Maximum altitude: 1929 m

Ascent (total): 272 m

Gradient (total): 135 m
The one-way hiking route is almost 6 km long . Since we went back the same way, the total distance was almost 12 km . After it is easy peasy at the beginning through forests and the wonderful mountain panorama of the Dolomites, the chill mode is unfortunately over at some point and there are the first scree fields and climbs to be overcome.
Then you will come across some passages where a lot of height has to be overcome using step ladders (no via ferrata). Other passages are very narrow, right on the precipice and therefore secured with wire ropes that you can hold on to. I had read about these passages before and that hiking experience and surefootedness are an absolute must here. And there I stood, a non-hiker, with my slight fear of heights and my sneakers … but if you don't dare, you won't win, right? And you know: when I've got something on my mind
And what can I say: there is absolutely no reason to wear your shirt. Surefootedness and a little concentration are required on these passages, but you can also do this with sneakers that have enough grip. You don't need any special equipment. Admittedly, it is probably a real challenge for people with a severe fear of heights. On the way we also saw a girl who had to turn back because she was too scared.
I myself am not free from giddiness either, but over the past few years I have unintentionally put myself on hikes in situations where I had to go beyond my limits, haphazardly and unprepared as I basically am. As stupid as it sounds, at some point you get used to the fact that you are in a shitty situation again that you have to get out of. And then you just turn off your head and move on. The more you do this, the better it goes. Therefore, these passages, which are probably also the reason why the hike to Lake Sorapis is categorized as 'challenging' on the popular outdoor sites, were not a problem for me.
And what about the altitude meters? It goes up and down the whole route again and again. In terms of numbers, there are only a few meters of altitude to overcome, but because you are constantly gaining and losing altitude, it is still exhausting. In addition, most of the time you run in the blazing sun. With breather and photo stops, we need 2.5 hours for the ascent .
Paradise found: Lake Sorapis
Shortly before we reach our destination, we can hear a small brook babbling. You have to cross this with a little skill in order not to get your feet wet. On the left it goes towards the Vandellihütte, on our right there is a last small hill that we have to overcome. And there it is finally in front of us: the beautiful Lago di Sorapis, which glows in an incredible turquoise even from a distance.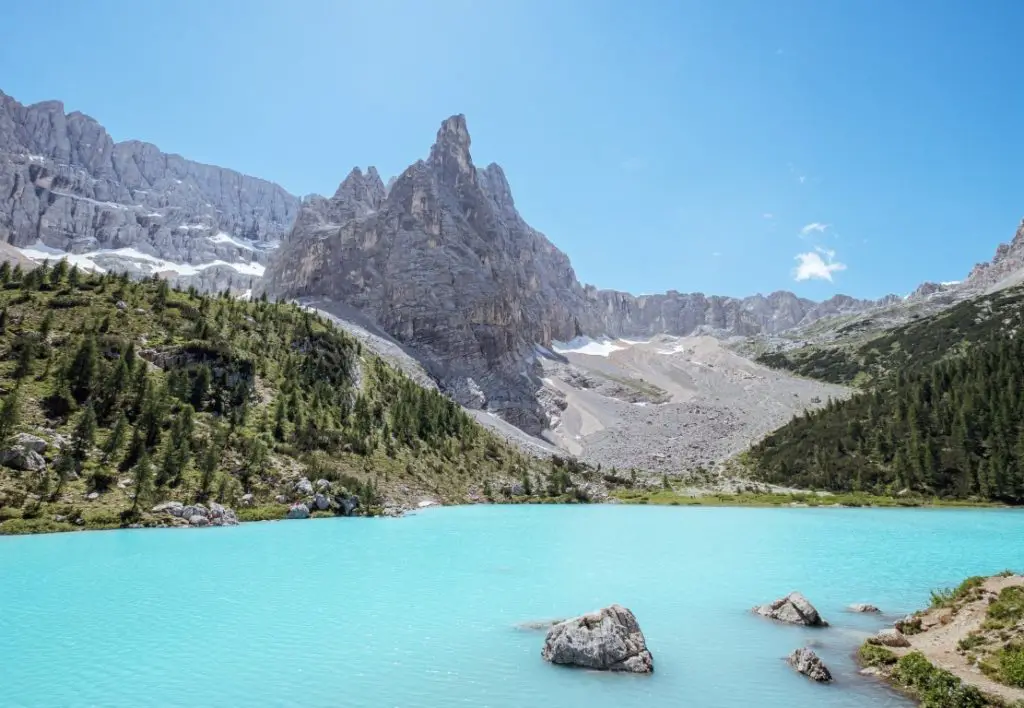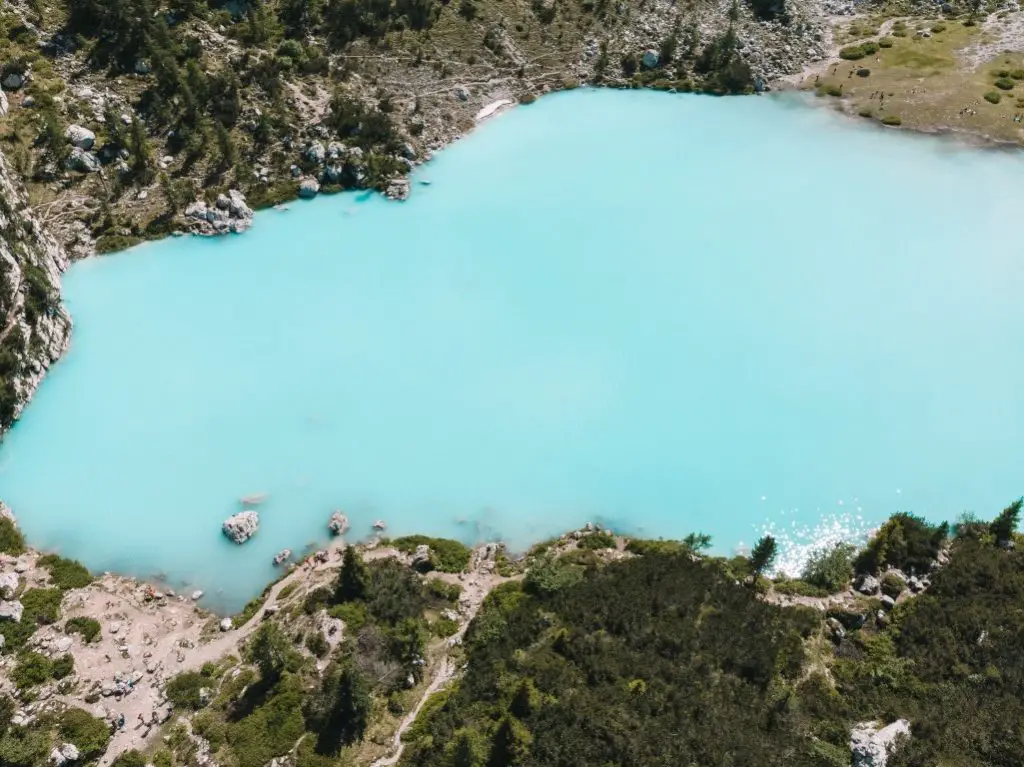 Surrounded by mountains, it shimmers milky blue and despite the fact that we are really not the only people up there on an afternoon during the holiday season, this place exudes an incredible calm and beauty for me.
It is not uncommon for places that you have previously seen in pictures to exude little of the magic that you would have expected based on the photos. But at Lago di Sorapis it is exactly the opposite: when I walk over the last knoll and see the bright blue for the first time, I can hardly believe my eyes. I even have to pause for a moment to understand what I am seeing. Pictures cannot begin to describe how beautiful this place is.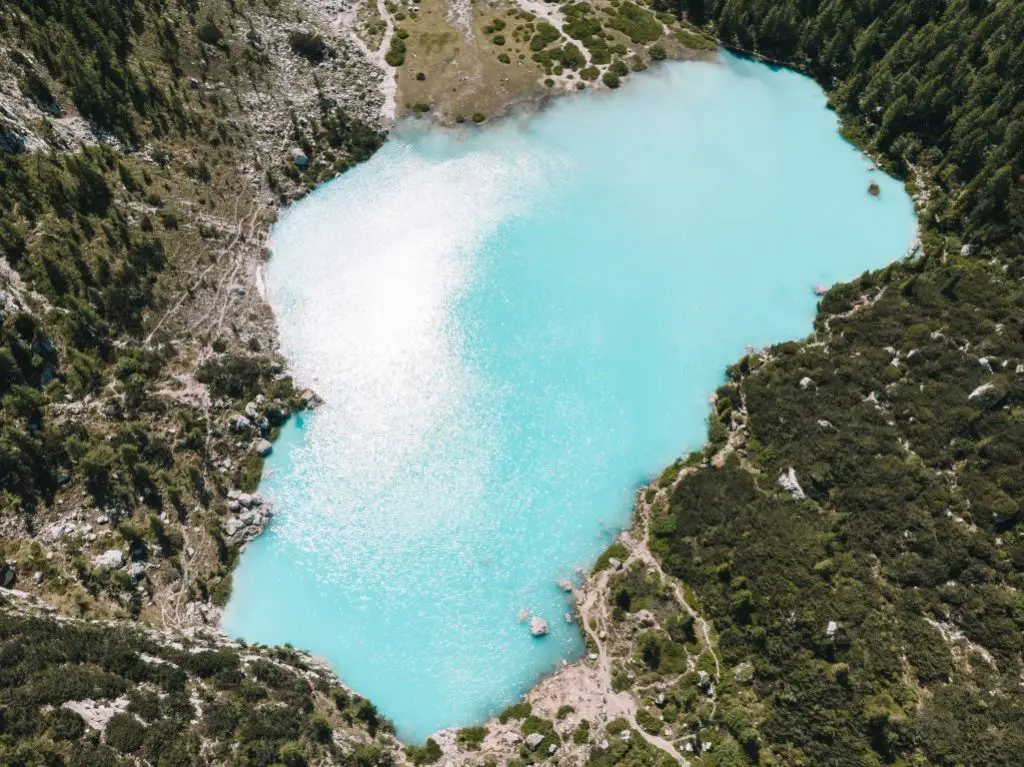 So we first look for a place on the lake shore and just enjoy. Over time, the other hikers gradually set off to start the way back and it empties a little.
And guess what? Now is my time to start what is arguably the craziest action of the entire trip! There is this big rock in the lake – I want to go up there. And that is only possible by swimming to it and climbing up. The problem: mountain lakes are usually as cold as pork. And I'll tell you, Lago di Sorapis sets new standards here HOW cold such a lake can be. But hey, only the tough come into the garden
When you come to Lago di Sorapis later in summer, the water level is lower and the rock is easier to reach or even without swimming. The other small rock next to it is easier to climb, the water goes there max. down to the knees.
On that day, in the 3 hours that we were there, only four other people besides me dared to venture into the lake.