I am usually known for my love for exotic dream travel destinations such as the Bahamas or the Caribbean , but something happened last summer that shook my mind a little: Although I was only a little impressed, I took a trip to Lake Garda . My path led me not only to Lake Garda, but also to Venice, South Tyrol and the Dolomites . There were a few spots that I wanted to see when I was there, such as the famous Pragser Wildsee , which has probably already appeared in the Instagram feed of each of us.
And what can I say: Northern Italy and I, that was love at first sight. I didn't see much in that short time, but I tasted so much blood that just a few months later, in the depths of winter, I went back to South Tyrol. And now I've done it again.
When the invitation to spend a few days in Merano at the Hotel Ansitz Plantitscherhof trickled into my mailbox, I didn't think twice . A few days of good food, lots of wine and discovering new corners in South Tyrol – I'll be there.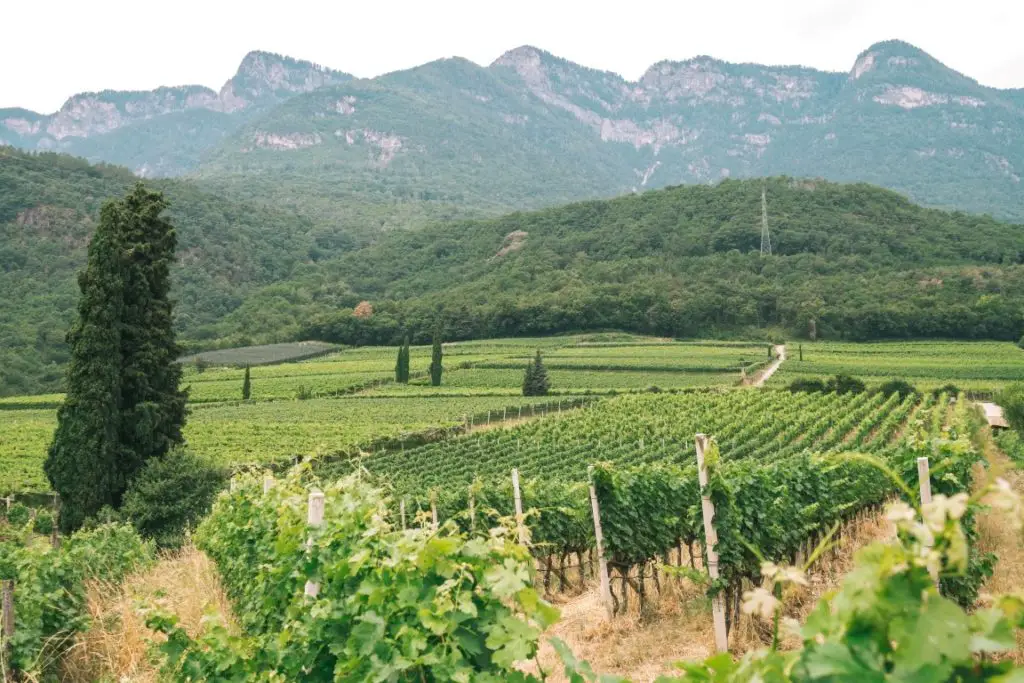 The Vinum Hotels South Tyrol
The Hotel Ansitz Plantitscherhof in Merano is part of the Vinum Hotels South Tyrol. It is not a hotel group, as you might think, but an association of currently 29 independent hotels throughout South Tyrol, all of which have one thing in common: the love of wine. To become a member of this association, hoteliers must meet high quality standards, for example they must be trained sommeliers. If South Tyrol has primarily meant beautiful nature, long hikes and the enjoyment of tons of cheese and South Tyrolean bacon for you, then you are certainly not wrong. But hey … they are good at wine here too!
What many do not know: There are numerous wine-growing regions in South Tyrol, mostly run by small wineries with a lot of love in family businesses. In order to bring this aspect a little more into the focus of holidaymakers who have already lost their hearts to South Tyrol, the Vinum Hotels South Tyrol were founded. The Hotel Ansitz Plantitscherhof is part of it – and I'll tell you: their wine cellar lives up to its name.
5 * in the hills of Merano
With around 40,000 inhabitants, Merano is quite tranquil, but due to its location in a valley basin, it extends far into the mountain slopes. The Hotel Ansitz Plantitscherhof is about 15 minutes' walk from the center, nestled in the green hills of Merano and has fantastic 5 stars. When we arrive there in the early afternoon, we are greeted more warmly with an aperitif as I have never experienced anywhere else and I feel right at home. With my Hugo (maybe it was the second * cough *) I sink into the garden chair next to the pool … you can do it, I would say 😉
The hotel consists of several buildings, each with rooms of different categories – including suites that have their own whirlpool or sauna (or both) in the room. Um … hello? <3 Even if I wasn't lucky enough to stay in one of these suites (which was better that way, because otherwise I wouldn't have left the room for 3 days) I felt very comfortable in my room.
Wine as far as the eye can see
The Hotel Ansitz Plantitscherhof wouldn't be a Vinum Hotel if it didn't have a wine cellar that has been washed. What particularly fascinated me was not only the huge amount of special and sometimes very old wine that is stored here, but also the enthusiasm of our host and hotel owner Johannes for what he does, which was clearly noticeable during the tour of the wine cellar and the subsequent wine tasting . In the wine cellar of the Hotel Ansitz you can not only taste a few rarities or even a 10-year-old white wine (!), But also dine at a table for two, separated from other guests, in what is probably the smallest restaurant in the world. Johannes can tell you many stories here, marriage proposals at this table are almost part of the agenda.
Wellness and relaxation are part of it
My favorite place in the Hotel Ansitz was different anyway, because most of the time I am actually inspired by the simple things: you give me a pool (or a lake or the sea, the main thing is water) and I am happy.
For these photos we actually went to the pool early in the morning, but it was never full there either. The pool area and the garden are big enough for everyone and most of the hotel guests are out and about during the day anyway, so everything is very relaxed.
In addition to the outdoor pool, the Hotel Ansitz also has an indoor pool with a super nice spa and wellness area, in which I could easily have spent a few days doing nothing. But in the wonderful summer weather I was drawn outside and unfortunately I didn't manage to test it out during my stay.
With the old-timer Bulli into the vineyards of the Meraner Land
On the second day of our stay, we went to the vineyards of Merano and environs in the morning, and not just somehow, but with a real pastel-colored VW Bulli built in 1977. Is there anyone out there who would n't like to drive such a cute piece? Naaa? I do not think so. And if it does: go away, you soulless person! Something is wrong with you!
Johannes drives to several spots in Merano and Environs with the Bulli and lots of wine in his luggage, the last stop of our little tour ends in the middle of the vineyards above Lake Kaltern. There we could not only enjoy delicious wine and South Tyrolean bacon and cheese, but also a fantastic view of the lake.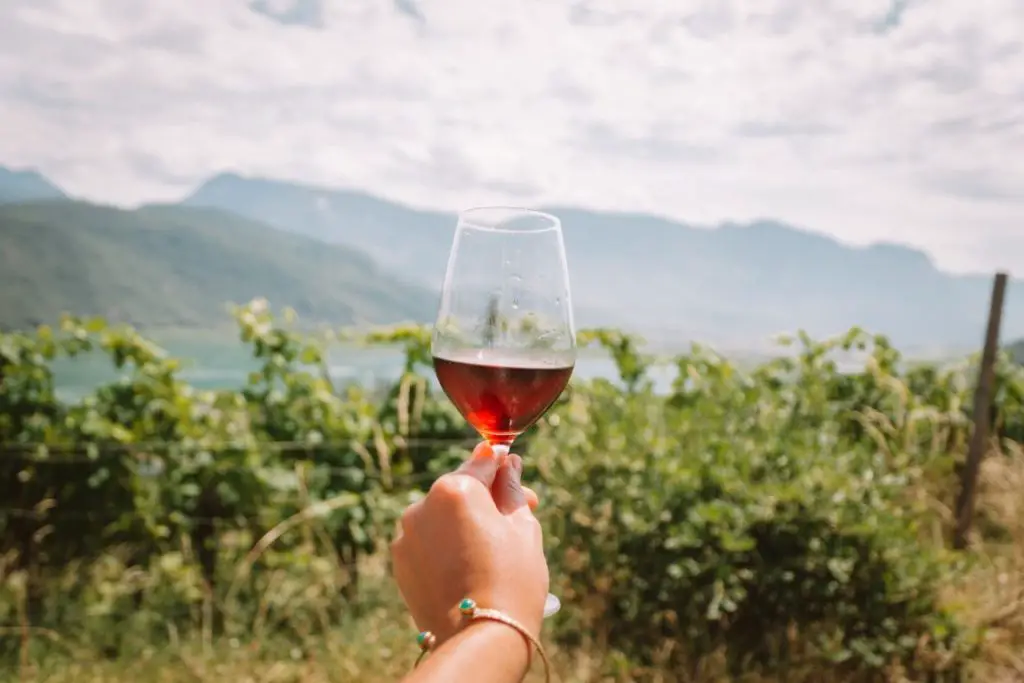 As a guest of the hotel, you can book this Bulli tour through the vineyards directly with the hotel. For me personally, the ride with the light blue baby was definitely the highlight of the whole trip! To be honest, a ride in an old VW Bulli has been on my bucket list for a long time and I'm really happy that this mini dream has finally come true.
(Note to the hotel: So actually I would like to take the Bulli permanently with me. I would cherish, care for, feed and regularly take it to trips for free. A foster home for him. Does that sound like a deal? Yes ?? ? Och … mwoah …)
Explore Merano by e-bike
If you want to explore the little town of Merano during your stay , I recommend one thing that I have admittedly considered to be more of a pensioner thing: an e-bike. Yeah Merano is a pretty hilly affair and you can of course also see the city on foot or (if you are fit) with a normal bike (which is free for hotel guests) – or choose the comfortable and time-saving grandma option. You can rent an e-bike directly from the hotel and either set off on your own or join a guided tour into Merano and Environs.
E-bike rental fee: € 28 per day
The culinary art is the icing on the cake
What can I say … nothing to be desired here. Both breakfast and dinner at the Ansitz Plantitscherhof were fantastic. The selection at the breakfast buffet was huge (and delicious!) And, sorry I am, I didn't manage to feed myself from top to bottom in my three days there, even though I made it up 😀 From fresh fruit to cakes , freshly prepared scrambled eggs to South Tyrolean specialties – everything you can imagine is here.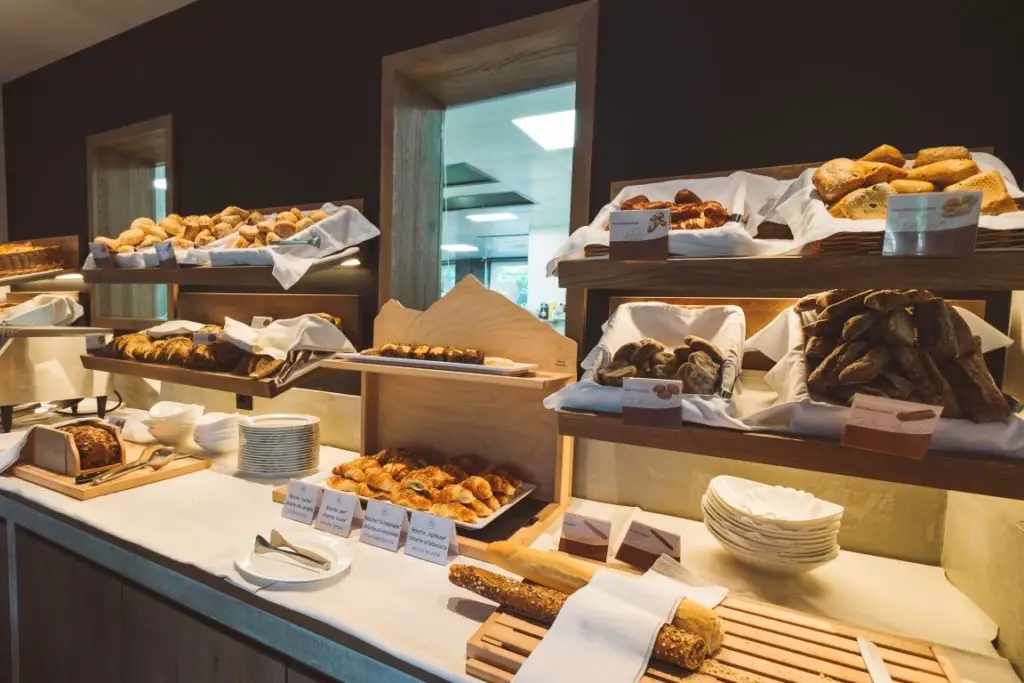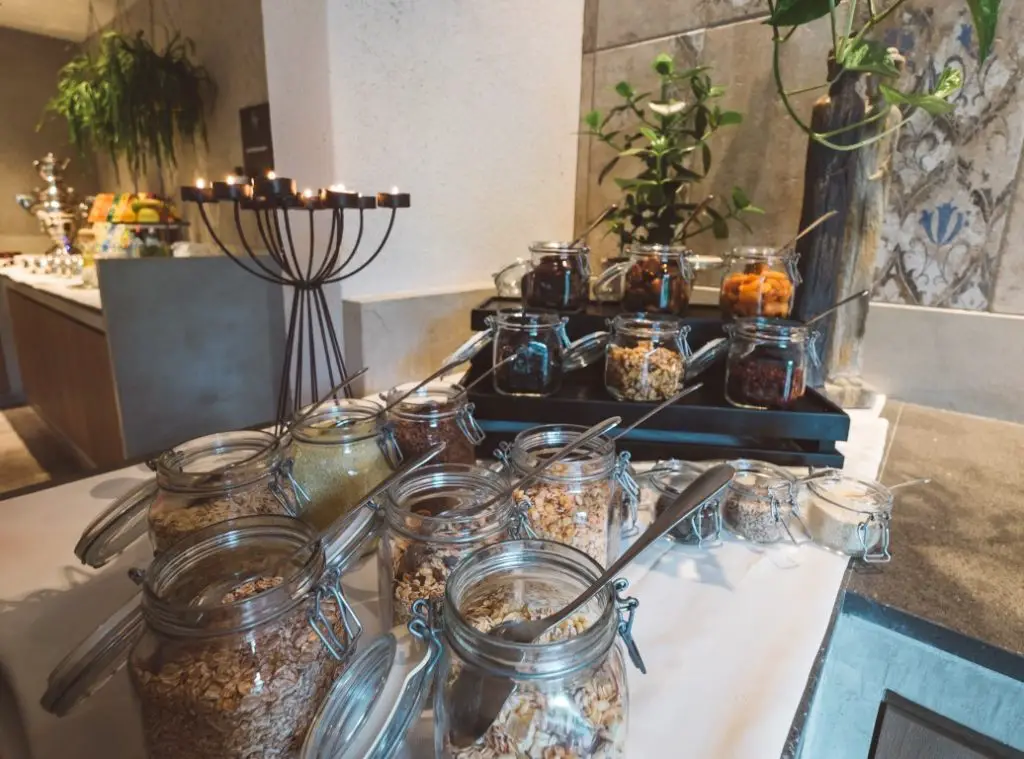 The dinner was also incredibly delicious. I'm usually not a big fan of menus, because in the morning I definitely don't know what my appetite for in the evening and like to make spontaneous decisions. In the Hotel Ansitz, however, this is solved very well, because there is a super-large starter buffet and there is also enough variation in the menu. In addition, you don't have to decide in the morning what you want to eat in the evening, but can choose your main course during dinner. And if you don't feel like having a heavy dinner at all, you are more than well served with the starter buffet alone.
What I found pretty fancy: In a small show kitchen, a cook will prepare your chosen starter and you can watch it. I was quite fascinated by the bright green ravioli that the good man conjured up there and got myself a second serving (and maybe a third one … sorry, not sorry).
The Hotel Ansitz Plantitscherhof can either be booked with breakfast only or with half board, that's up to you. The use of the pools, the wellness area and the sports offers is always included.
My conclusion on the Hotel Ansitz Plantitscherhof
What I realized again during my stay at the Ansitz Plantitscherhof is that a hotel stay and my personal feelings in this regard are largely defined by one thing: the warmth of the hosts. For me, aspects such as luxury, equipment, a particularly good breakfast, etc. play only a subordinate role in a hotel. If the hosts are passionate about what they do and want their guests to experience a pleasant stay, everything is right for me. For example, when I was in the Dolomites in winter, I stayed in a hotel that, objectively speaking, was neither clean nor well equipped and significantly too expensive for that. But the Italian grandpa, who ran the whole place and spoke neither a bit of English nor German,
And that's exactly how I feel with Johannes and his family, who run the Hotel Ansitz Plantitscherhof together. I found the warmth, relaxed atmosphere and the personal touch of the hosts so pleasant that I felt very comfortable from the start and would come back anytime.
Sneak peak into what I mean: in the picture you can see Plantschi, the Plantitscherhof's mascot. Every guest gets a paddling for free and you are welcome to take them home with you. While I was out, my paddling waited in my room – and wore my glasses after the room service was there. I don't think that Plantschi was at work here on his own …
The room service definitely has a sense of humor 😉 And it is precisely these loving, personal and mostly very simple details that make for a great stay for me.