Eagle Beach in Aruba is considered the most beautiful beach in the whole of the Caribbean and is even one of the most beautiful beaches in the world – at least according to the Tripadvisor ranking. It has received the Tripadvisor Traveller's Choice Award several times over the past few years and even if we all agree that people on Tripadvisor sometimes have no idea: In this case, we agree without discussion. This dream beach is everything you could wish for. It's shimmering white, it's soft like butter, it's bright blue as far as the eye can see. Eagle Beach is perfection and paradise on earth.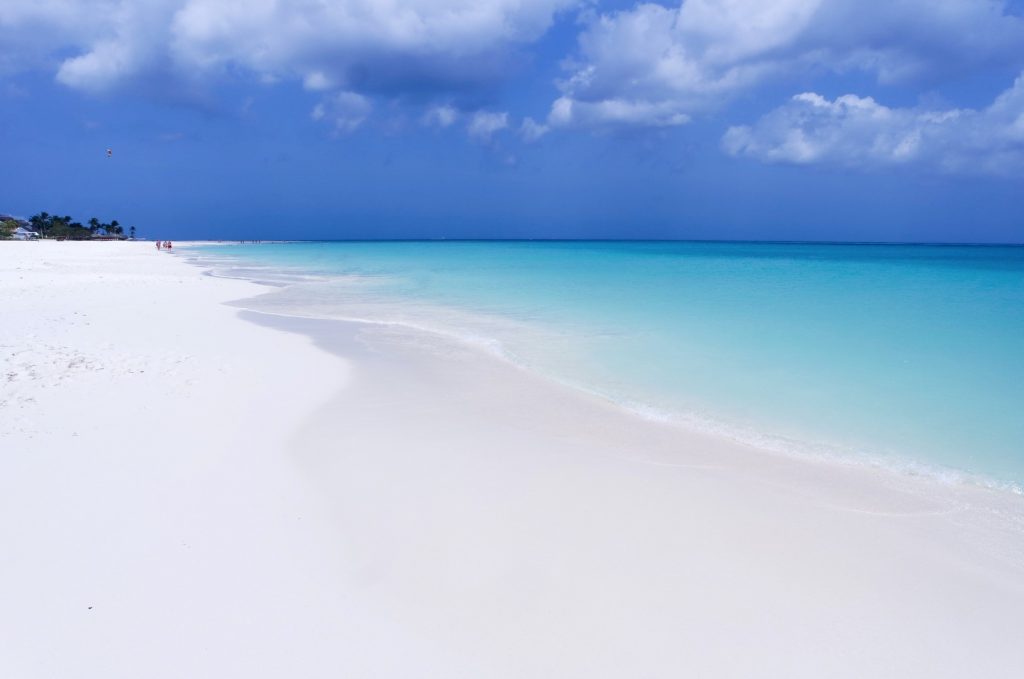 Eagle Beach: A dream beach straight out of a picture book
You have probably already noticed that Aruba is a real pearl in the South Caribbean and, despite its small size, has some incredibly beautiful beaches. But what distinguishes Eagle Beach, for example, from Palm Beach or Baby Beach , which we reported very enthusiastically about? Quite simple: Eagle Beach is the largest beach in Aruba with a length of around 2km and a width of around 200m. It is located northwest of the island's capital Oranjestad and you can easily reach it by bus or car. In the southeast, Eagle Beach borders Manchebo Beach, and Palm Beach is separated by a short strip of land that does not have a sandy beach.
Due to the spaciousness and the fact that there are no hotel buildings directly on the beach, everything is perfectly distributed on Eagle Beach. Please take a look at the pictures – that comes pretty close to the idea that one has of a lonely dream beach in the Caribbean, doesn't it? You will definitely find a secluded spot here, where you can have your peace and quiet and enjoy the crazy sight of this perfect beach.
However, this also means that there are relatively few beach bars on Eagle Beach. You will also look in vain for the annoying beach vendors common in Europe with their rudimentarily chilled Coke cans and qualitatively questionable bathing accessories, they have somehow not made it across the pond. So bring your drinks, the required daily ration of ice lollies and the fake sunglasses with you 😉 Don't get me wrong: There is not nothing on Eagle Beach, there are individual sections of the beach where a few small Caribbean bars have settled, someone jet Rent skis or one of the low rise hotels nearby has set up a few loungers and parasols. But if you want to be fully catered for, then you are on Palm Beach better off.
Divi Divi trees and sea turtles on Eagle Beach
As the only beach in Aruba, Eagle Beach has two more aces up its sleeve: On the one hand, there are the famous Divi-Divi trees, which are probably on every single picture you ever see of Arubahave seen, are shown. They are THE symbol of the island. The trees do not only grow here, but also on other Caribbean islands and especially in South America (which is actually not a very long way, because Venezuela is only 25km from Aruba), nevertheless the Arubans somehow managed to claim them for themselves . Divi divi tree? They're from Aruba. Born and raised. Clearly. The special thing about the Divi-Divi-Trees is that they grow with the wind and sometimes take on very curious shapes. As an average tourist you can either pose wonderfully in front of / on the trees (just lean sexy against the palm trees on the beach of El Arenal) or do nonsense with them (I chose "sexy", as can be clearly seen).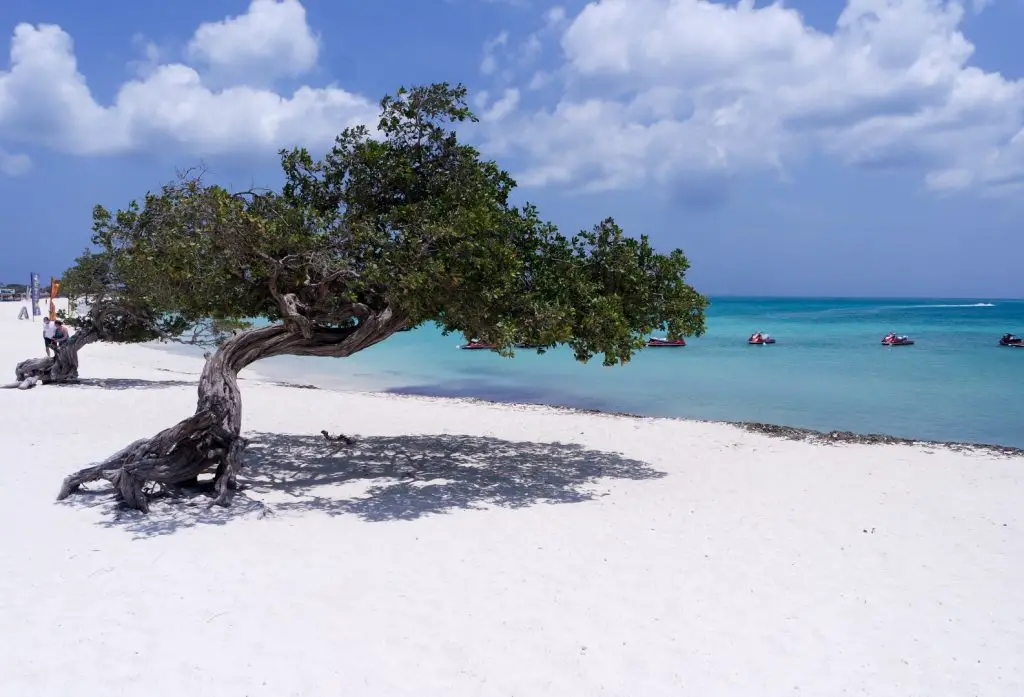 The second really cool thing about Eagle Beach: There are sea turtles here! Yes, really now! We haven't seen any ourselves, but they really exist. The turtles have chosen Eagle Beach as their breeding ground and lay their eggs in the warm sand between March and July every year. The nests are very difficult to see as a layperson, which is why they are fenced off to protect the turtles. In this way, the babies can grow up safely in the eggs. Between May and September the babies hatch and if you are very lucky you can be there live as they make their way towards the sea through the sand (which is really not an easy undertaking, because the spectacle usually takes place at night). If you are interested in the topic, you can read here how you as a vacationer toProtection of sea turtles can help.
Interesting facts about Eagle Beach
For children, we would only recommend Eagle Beach with reservations, as in places you are waist-deep in the water after just a few meters.
Opinions are divided about whether you find Eagle Beach or Palm Beach in Aruba more beautiful. You should know that there is a street behind Eagle Beach. This has the advantage that you can park directly on the beach and the disadvantage that there is a street on the beach. However, the street is neither loud nor busy and the beach is so wide that you can neither see nor hear the road a few meters further down the sea. Still, it bothers a lot of people. Personally, we were far more bothered by the luxury hotels on Palm Beach and the type of vacation offered and enjoyed in this part of Aruba. That's not our thing and we feel much, much more comfortable on a halfway lonely Caribbean beach. Sunglasses, a towel, liters of coconut water and one brought from the supermarket, the island's own Balashi beer – this is what our paradise looks like. We found it at Eagle Beach (and onBaby Beach , on Flamingo Beach , on Arashi Beach … .ach, Aruba. You stole our heart! 🙂)