The Seychelles consist of 115 mostly uninhabited small and large islands, which are located around 1000 km off the coast of East Africa. With a length of approx. 27 km and a width of max. 8 km Mahé is the largest island in the Seychelles and is one of the main islands alongside Praslin and La Digue. It is the only island with an international airport, so your vacation in Seychelles will most likely begin and end in Mahé. I was no exception here and decided to spend a few more days on Mahé around our sailing trip through the Seychelles .
Quick & dirty: Mahé tips for getting started
Weather on Mahé: To begin with, a few general information about the island With around 70,000 inhabitants, Mahé is the largest and most densely populated island in the Seychelles. It belongs to the granite islands and about 70% of the island area is overgrown by dense forest and jungle (which I personally didn't realize before my trip to the Seychelles … somehow the equation Seychelles = beach was valid in my brain). The highest point of Mahé is over 900m high, in general the island is surprisingly 'mountainous' and characterized by lush vegetation. This lush vegetation not only brings with it the insanely large Seychelles palm spiders (which in my opinion come straight from hell), but also the fact that rain clouds often hang in the mountains in the center of the island and Mahé is a tad more rainy than the other Seychelles islands.
Time planning : For this reason alone, you should plan enough time on Mahé. We had a total of 3 days to explore the island, but I recommend at least 5 days. The weather is unpredictable and so it can quickly happen that you have to postpone your day at the beach or a planned hike because of rain (which happened to us about every day. In the end we went to the beach when it was raining. YOLO and so on).
If you only have a little time on Mahé or if you don't want to rent a car, a day tour with a local guide * across the island is worthwhile . Here you drive to the most interesting places on Mahé and get a good first impression of the beauty of the island.
Living on Mahé: The south of Mahé is considered the more original and less touristy part of the island. Since I would like to soak up as much of the culture of a place as possible while traveling and this starts for me with the choice of accommodation, I have chosen the Villa Bambou, a small guesthouse run by locals at Anse à la Mouche in the southwest, decided. You can book Villa Bambou via booking.com * or directly here . More information, pictures and a small report can be found below in this article.
Alternatively, there is of course the possibility of booking accommodation in the more touristy part of Mahé in Beau Vallon. Don't worry, it is by no means overcrowded there either – the Seychelles are and will remain a comparatively exclusive travel destination. I still liked the southwest of Mahé better, so at this point a clear recommendation from me for an accommodation in this part of the island.
So much for the little introduction, which hopefully can answer the most important questions about Mahé. But now for the exciting part, because we are in the Seychelles after all: beaches, food, palm trees and rum! Find out now what you shouldn't miss on Mahé.
Victoria: The smallest capital in the world
Mahé's capital, Victoria, is officially the only city in the Seychelles and, thanks to its population of just under 25,000, is called the smallest capital in the world. I don't know if that's actually true;). Allow 3-4 hours for Victoria to explore the most important things on foot. The Victoria market is particularly worth seeing, where you can get everything your heart desires from coconut oil, typical Creole spices and tea to freshly caught fish. Close to the market are two other highlights of Victoria, the clock tower, which was clearly inspired by the British colonial era, and the Buddhist temple.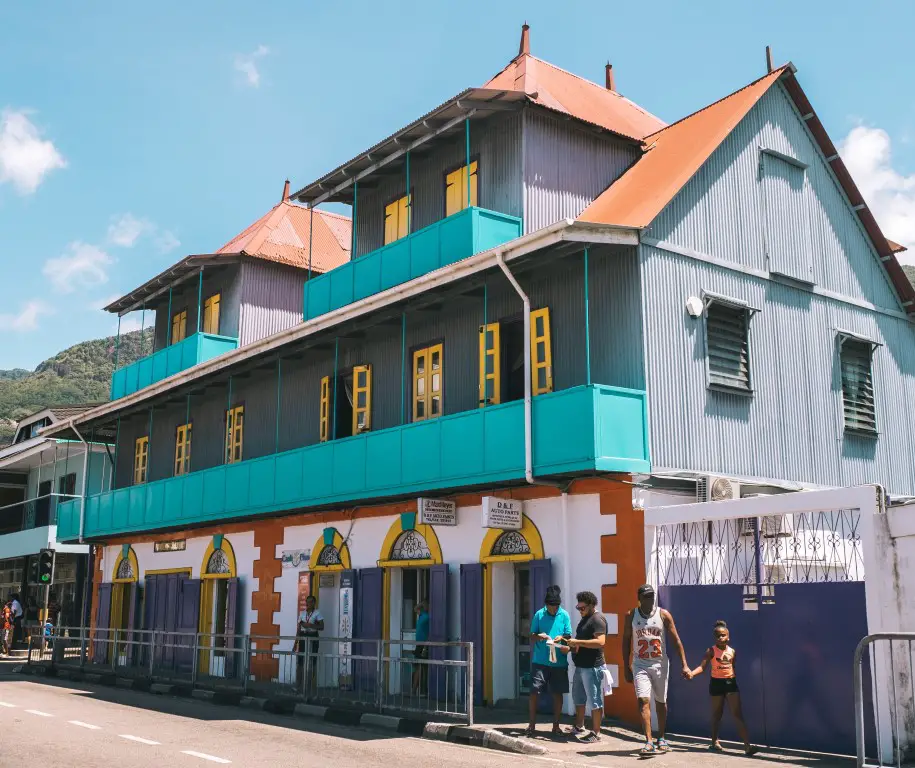 Just let yourself drift in Victoria and immerse yourself in the lively life of the city. There are some souvenir shops, cheap clothes shops (although not of particularly good quality), pretty colonial buildings and delicious take-aways where you can eat your fill for little money.
The south of Mahé: away from the tourist crowds
The southern part of Mahé is considered the less touristic and scenic part of the island. And I can only agree with that! Almost around every curve along the coastal road there are new small bays and villages, delicious take-aways with Creole cuisine and wonderful wild beaches to discover. My recommendation: be sure to organize a rental car to have a beach hopping day there. There are public buses on Mahé, but of course you are not flexible and have to plan a lot more time. I usually book my rental car in advance on billiger-mietwagen.de * .
The most beautiful beaches on Mahé
In contrast to the other two islands La Digue and Praslin, Mahé has the reputation of not necessarily being blessed with the typical Seychelles dream beaches. I say: utter nonsense! Mahé has wonderful beaches, dreamlike hidden bays and a lot of them. Are you ready for picture spam?
Fantastic beaches in the south: Anse Soleil, Petite Anse, Baie Lazare, Anse Intendance & Anse Takamaka
The south of Mahé has a number of wonderful beaches, some of which are completely deserted. To be honest, I was a little overwhelmed when I looked at the menu because there were so many. The remote bays, which are not that easy to get to, of course particularly appealed to me. So that you are not as overwhelmed as I am, I would just like to give you a brief overview of the beaches that made my heart beat faster. And because I know that your brain, just like mine, got off with so many Anses (which by the way simply means 'Bay') at the latest at the third name, you will find an overview map with the most beautiful beaches on Mahé at the end of this section.
The Anse Soleil and and Petite Anse are on a kind of promontory that juts out a piece of the sea in the southwest of Mahé. You can reach both beaches by turning off West Coast Road onto Anse Soleil Road.
We head for Anse Soleil early in the morning and that was probably exactly right, because there aren't really any parking spaces except in the ditch. The only way to get to the beach is through a café, from which a small staircase leads down to the bay. According to Google reviews, the café owner is supposed to be a bit difficult … and somehow we're glad that nobody is there so early in the morning.
At Anse Soleil we are completely alone and just enjoy the peace and quiet and the rushing waves. Although… not true. We are not that completely alone, as you can see 😉
Then it went on to the Petite Anse . Don't be alarmed, Petite Anse is located in the area of ​​the Four Seasons Resort * , which is built tightly into the wooded slopes. Just report to the porter, he will write down your name and then you can move freely around the resort and of course use the beach.
Anse Takamaka , which is one of the most beautiful and spacious beaches on Mahé, follows just a few kilometers further . As a special highlight, you can even live directly in your own beach house in the Chez Batista Villas * . The associated Creole restaurant right on the beach is said to be very tasty, but the prices were a bit too expensive for us.
So we quickly move on towards Anse Intendance and here you are on Mahé for the first time: granite rocks! Yeah! But be careful, the current at Anse Intendance is tough! In general, you will come across large warning signs on almost all beaches in the Seychelles, warning of the strong currents, especially during the southeast monsoon. Take it seriously. At Anse Intendance I could feel what that means for the first time when a wave rolled over me out of nowhere. No question about it, Anse Intendance is a beautiful beach – but you'd better lie as far away from the water as possible 😉
Police Bay: The southernmost tip of the island
To be honest, I am at a loss for words for Police Bay. If I could only recommend one thing to you on Mahé, it would be this. Drive to Police Bay! You're welcome. This beach is just big, wide, turquoise blue, buttery light sand – and it was almost deserted. I honestly have no idea why, because this bay is a real gem.
All you have to do is drive the road coming from Anse Intendance all the way to the end, until it is no longer possible. You will first pass Anse Bazarca , shortly afterwards you can park your car. From here you continue on foot, first to Petite Police Beach and after about 10 minutes through some thickets and forest you reach Police Bay.