Although Aruba is an incredibly small island (just a ridiculous 30 km long and 9 km wide) there are a number of incredibly beautiful dream beaches here . Buttery soft, brilliant white powdered sugar sand, baby blue water, a colorful underwater world, sun all year round, palm trees and flamingos – Aruba is a real Caribbean beauty.
They say Aruba has the most beautiful beaches in the Caribbean . Such wisdom must of course always be treated with caution, but in this case there is actually proof of it: The famous Eagle Beach in Aruba was named the most beautiful beach in the Caribbean by Tripadvisor and even the second most beautiful in the whole world. There you have it! In order not to leave any doubts that Aruba is really worthwhile for beach lovers, we would like to give you a small overview of the most beautiful beaches in Aruba.
Here are our completely subjective (and therefore of course indisputable) 5 most beautiful beaches on Aruba!
We have marked all the beaches mentioned here on the map. Just move your mouse over it and zoom in on the map to find out which beach is where.
Aruba's most beautiful beaches: Eagle Beach
Eagle Beach is our undisputed number 1 in Aruba. As already mentioned, this is also confirmed by the Traveller's Choice Ranking from Tripadvisor, in which Eagle Beach ranks second among the most beautiful beaches in the world. We still can't believe that we could really see this UN-BARREL beach with our own eyes! Thank you, dear full-time job, for making this possible for us! I think pictures speak more than 1000 words at this point.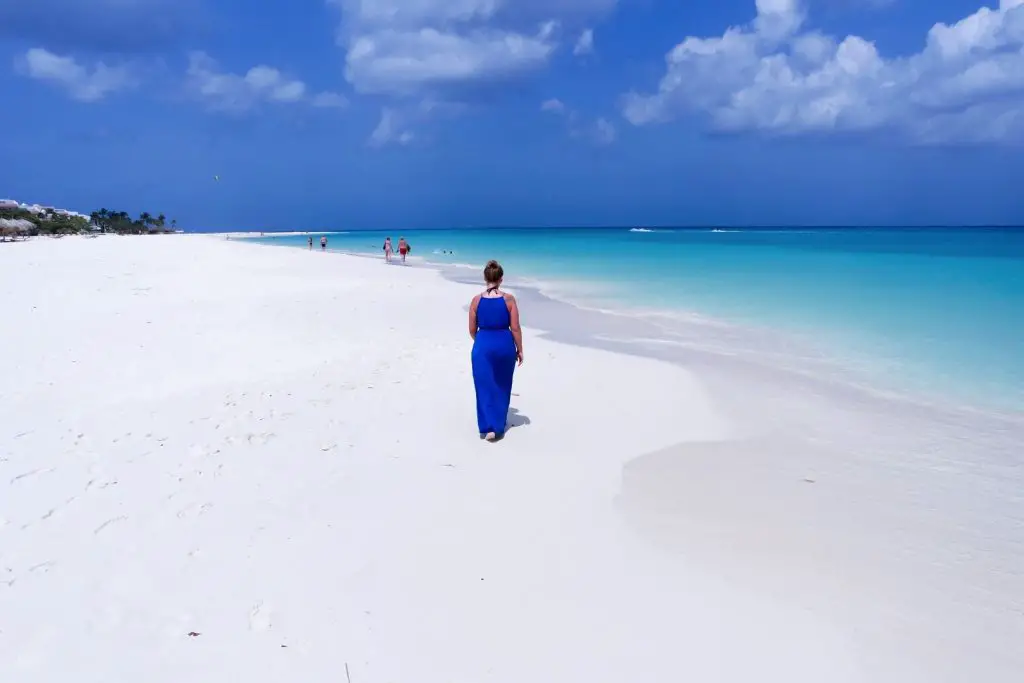 Bathing with flamingos: The Flamingo Beach
Flamingos on the beach? In the Caribbean? Really now? Really now! You can find it in Aruba. The Flamingo Beach is now well become the next divi-divi trees the most famous trademarks of the island and it is the social media certainly not entirely uninvolved. We admit it: We too became victims of our Instagram feed and after we were thrown there long enough with flamingo pictures from Aruba, at some point there was no escape. We victims. Why does Flamingo Beach only take second place with us? Very simple: Unfortunately, it is not freely accessible and is artificially created. We and our inner outlaw find that a bit stupid. But hey, one thing you have to do with the Renaissance Hotel * , that had the idea of ​​putting flamingos on their private island, let alone: ​​they can do marketing.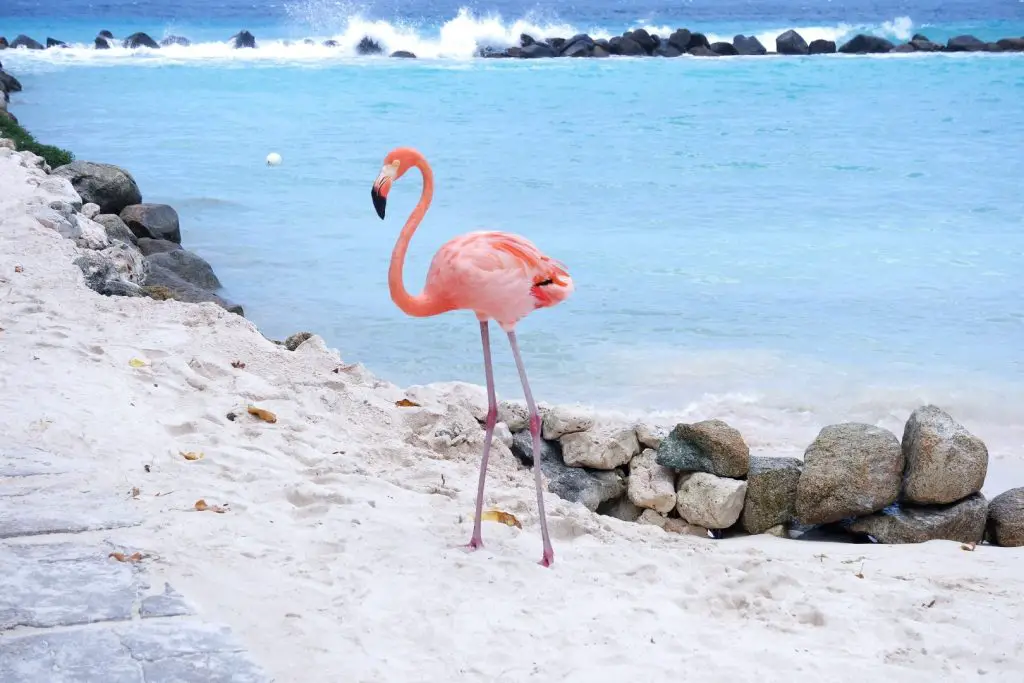 Aruba Blue: The Baby Beach
Baby Beach is just so easy going. It's so damn blue and bright and beautiful and … oh. For the first few meters at Baby Beach I didn't even know what to do with all the impressions and had to stop again and again and rub my eyes in disbelief (both figuratively and in real life. It is so bright there that me the eyes watered a lot despite sunglasses). In summary, you can only say one thing about Baby Beach in Aruba: Holy shit! In a positive sense.
Aruba's most beautiful beaches: Arashi Beach, a snorkeling paradise
Arashi Beach on Aruba is located in the north-west of the island and is a great snorkeling spot, which is why it is particularly popular with the locals. It is also a little quieter there than a little further south in the area of ​​Palm Beach and Eagle Beach. You won't find any large hotel buildings around Arashi Beach, it is surrounded by the typically barren landscape of Aruba and is simply a nice spot on the island.
> Here are a few reasons why you shouldn't miss Arashi Beach <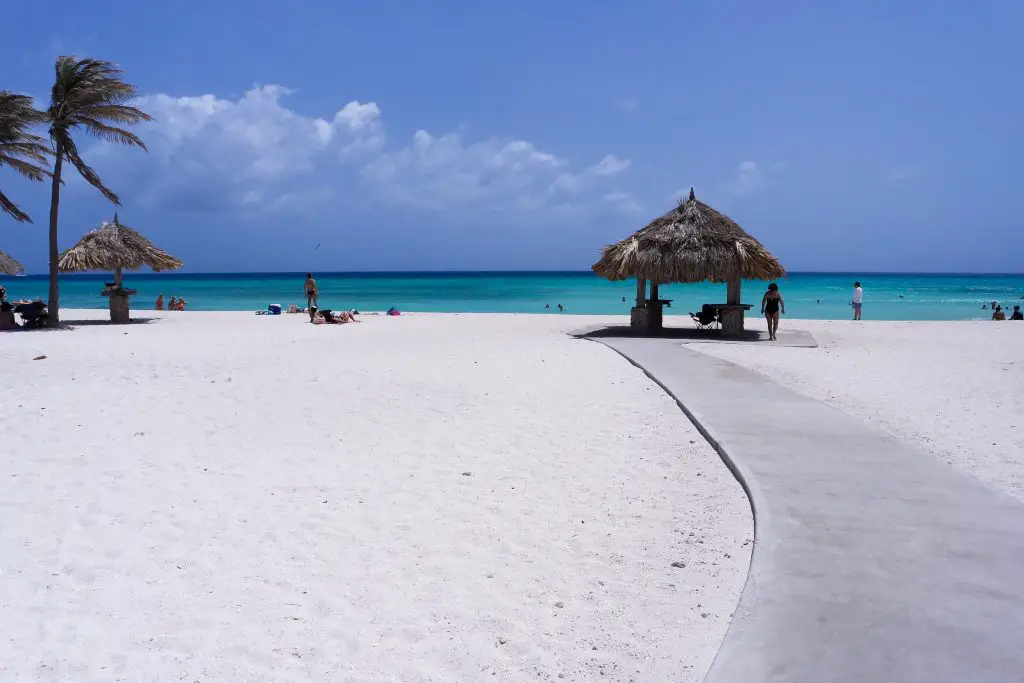 Aruba's most beautiful beaches: Palm Beach
Palm Beach is Aruba's flagship Caribbean beach. For some people, Palm Beach is definitely number 1 of the most beautiful beaches in Aruba, for us personally it unfortunately only ranks 5. Palm Beach itself is a really beautiful dream beach like out of a picture book, but unfortunately it is quite built up with luxury hotels . If you've associated Aruba primarily with luxury vacations – your impression probably stems from here. And that can't be glossed over either: the big hotel chains have bloomed here. American vacationers like that and are happy to pay € 10,000 for two weeks in Aruba in a luxury hotel, we tend to break out into hysterical laughter at such house numbers. You can do it, but you can also leave it alone.
In short: Palm Beach is great, the hotels around it are not. Here you can read everything about Palm Beach .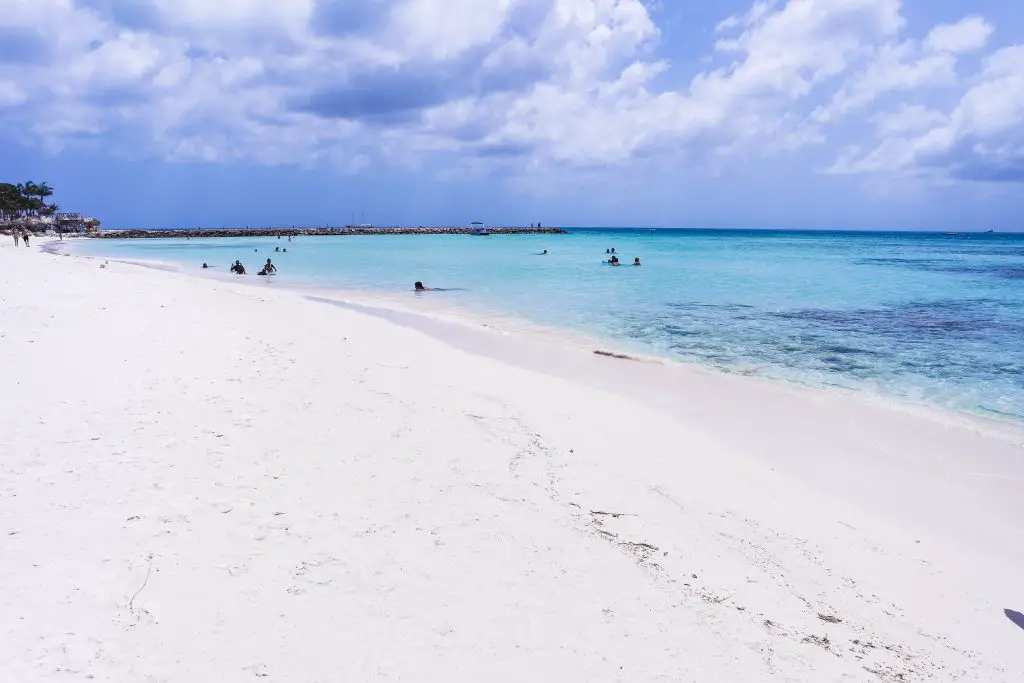 Dream beaches in Aruba: You shouldn't miss these beaches either
There are countless other great beaches on Aruba, which we don't want to ignore at this point for the sake of completeness.
For snorkeling: Boca Catalina, Malmok Beach and Mangel Halto
Boca Catalina and Malmok Beach are very close to Arashi Beach in northwest Aruba and are perfect snorkeling spots. The Mangrove Beach is considered to be the best snorkeling spot in Aruba. It is surrounded by mangroves with numerous fish.
For bathing and swimming: Manchebo Beach, Divi Beach and Druif Beach
The three beaches are all more or less offshoots of the wonderful Eagle Beach . It goes a little deeper into the water relatively quickly, which makes them perfect for swimming.
For surfing: Boca Prins and Dos Playa
The two beaches Boca Prins and Dos Playa are really not what you would expect from a typical Caribbean beach. How can that be? They are located on Aruba's rugged north side in the middle of the Arikok National Park, where Aruba's main attraction, the Natural Pool, is also located. We strongly advise against swimming here, the current is far too dangerous! Both bays are popular spots for experienced surfers.