Didn't we think of a better title? No. Because there are places in this world that you don't have to say much more about. Baby Beach in Aruba is one such place. Just: Holy Shit, it's nice here. And we were there. Fuck, yeah! A piece of paradise? Yeah
To be honest, it's not just Baby Beach that silences us in awe, but basically all of the wonderful beaches on Aruba and somehow the whole island. Rumor has it that Aruba actually has the most beautiful beaches in the entire Caribbean. Both Palm Beach and Eagle Beach have received multiple awards, and Eagle Beach is even considered one of the most beautiful beaches in the world. Anyone who knows us a bit knows that we have an absolute soft spot for dream beachesthis world and in Aruba we have (at least for the time being 😉) found our personal paradise. We would like to share a piece of it with you and gradually introduce you to Aruba's beaches over the next few weeks and provide you with lots of information (and pictures!). Baby Beach in the very southeast of the Caribbean island kicks off .
Baby Beach Aruba: powdered sugar beach and bright turquoise water
The beaches on Aruba all have one thing in common: fluffy, shimmering white sand and crystal clear, turquoise water. Baby Beach in the southeast of the island is a bit off the beaten track and is therefore relatively safe from most package holidaymakers and day tourists who come to Aruba on the big cruise ships. In general, comparatively few tourists get lost here, as it will be difficult to reach Baby Beach without a car.
The beach got its name because it is very popular with (local) families with children, because the water is extremely shallow and you can still stand waist-deep in the water hundreds of meters from the beach. The crescent-shaped lagoon is well protected from the current and is great for snorkeling. You won't find a real snorkeling paradise here, simply because the lagoon is very shallow, but there are some funny, colorful fish. Boxfish in particular seem to like shallow water a lot, and we've discovered a lot of them!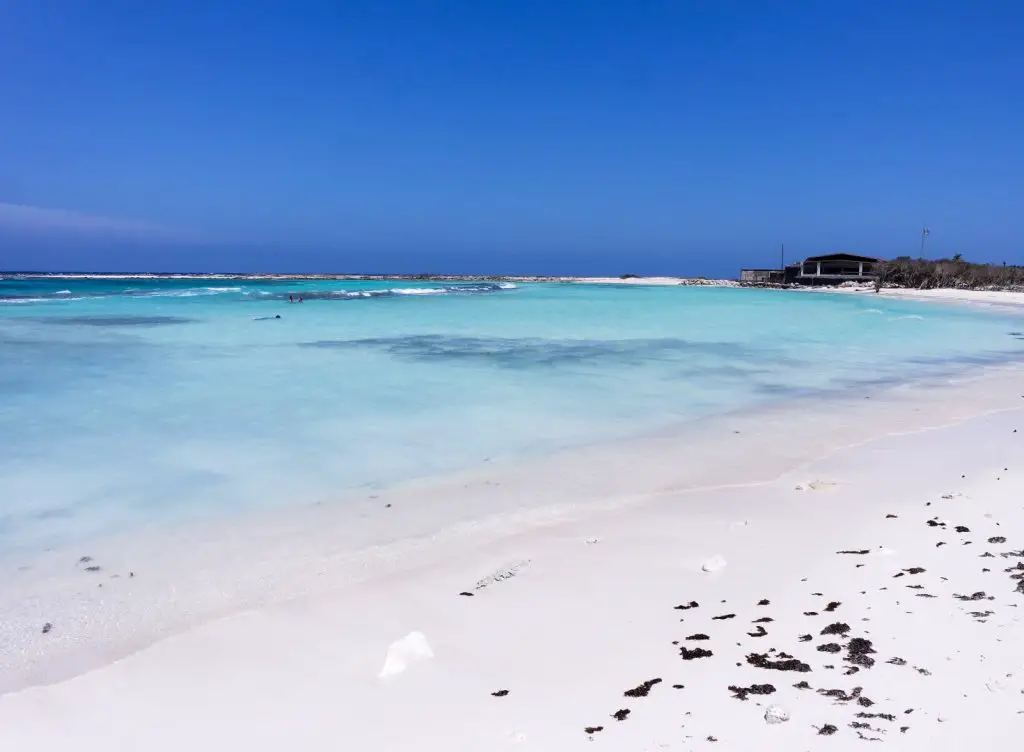 Although Baby Beach is said to be so popular with families, only a few families (and few people in total) were present, so you don't have to worry about getting into conditions that could also be found at the pool of a Mallorcan family hotel. Baby Beach in Aruba is calm and uncrowded.
The only downer: the postcard idyll is a little disturbed by the oil refinery in the background. But don't worry, the refinery has been shut down since 2012, it neither smells funny nor is you secretly poisoned. It's really just the image that's being disturbed a bit. But with a view towards the sea that shouldn't really matter, at least it was for us. The white sand, the turquoise blue sea … we found the beach really magical!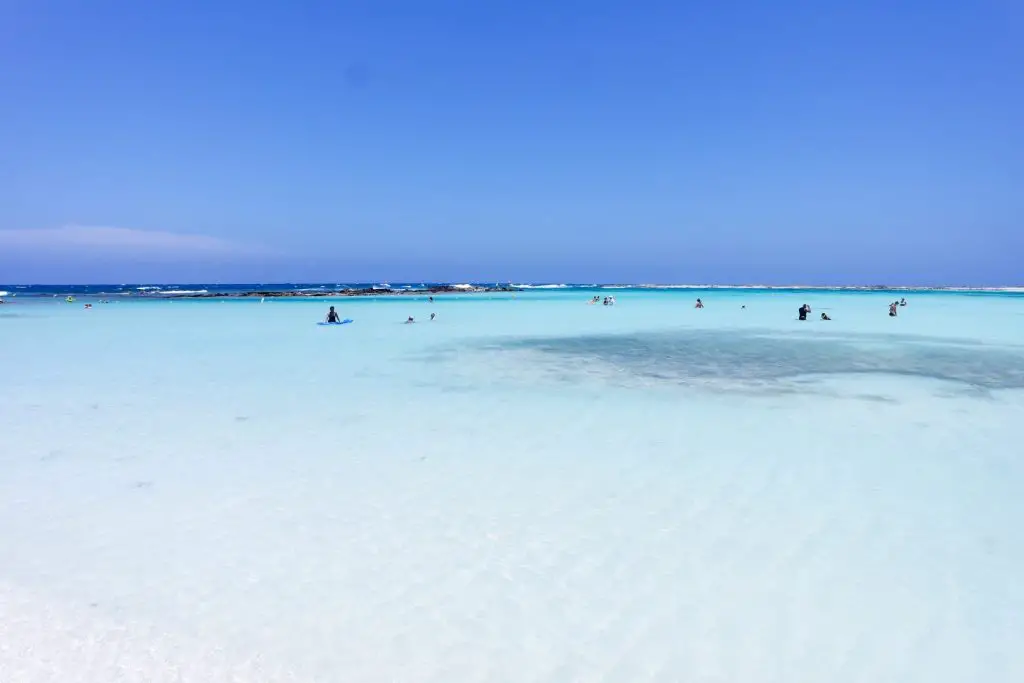 Is the Baby Beach suitable for children?
Yes and no. To be honest, we were surprised that Baby Beach is explicitly described as particularly suitable for children. We would not subscribe to that 100%, because in the water there are sometimes rugged stones and real 'fields' of large stones, on which you can injure yourself while snorkeling thanks to the current. There are funny fish on the rocks, which is why snorkeling is really fun here, but there are also some sea urchins that you would rather not encounter. The current is generally limited, but the further you are from the beach, the stronger it gets. As a brief explanation: Aruba basically has two faces. The south side has wonderful powdered sugar beachesand hardly any current, the north side of Aruba is rugged, rocky and has no beaches. The current on the north side is very strong! Now Baby Beach is exactly on the southeastern tip of the island, once around the corner, the north side of Aruba begins. Therefore, the current at Baby Beach should not be underestimated. It's great for children right on the water, but you shouldn't underestimate the risk of injury from the stones and the current.
Otherwise, there is also a small beach bar and loungers with umbrellas at Baby Beach, which can most likely be used for a fee (which we didn't do, beach loungers are stupid and sand is cool).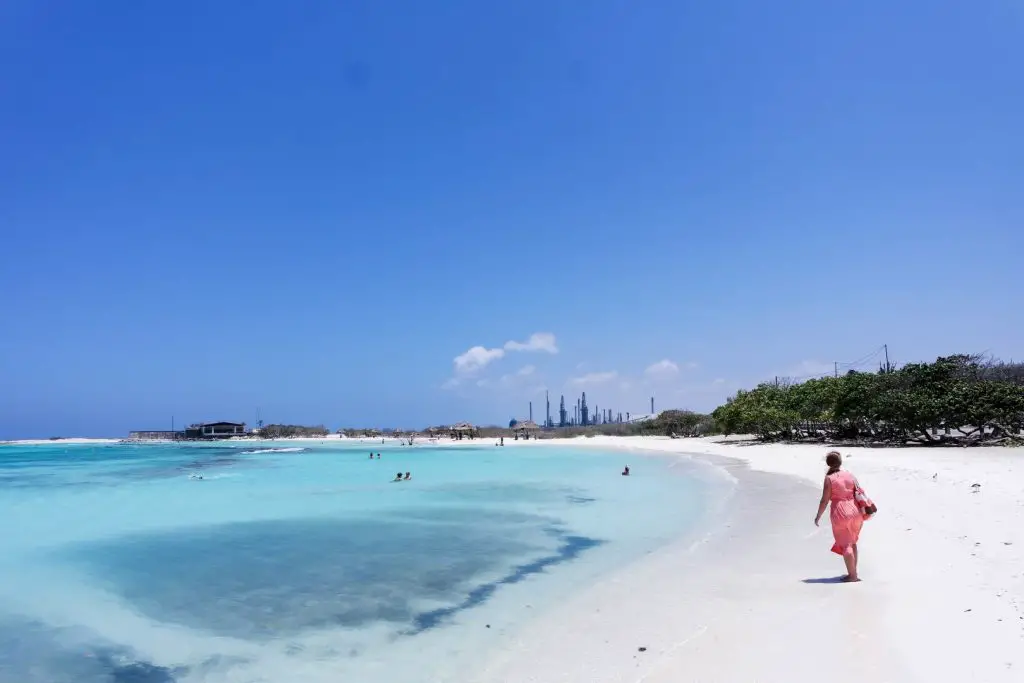 How do you get to Baby Beach?
Even if the network of public transport in Aruba is comparatively well developed, going to Baby Beach will be difficult. The Arubus , Aruba's bus route, does not run directly between Aruba's center and Baby Beach. It works somehow, but it takes a long time and you have to change trains a few times. You can try muddling through here . But it is much easier with a rental car. Since Aruba is very small, the journey is quick and you can park for free near the beach.